Frequently Asked Questions

---
What is dense breast tissue and why should I be aware?
Dense breast tissue is comprised of less fat and more connective tissue which appears white on a mammogram. Cancer also appears white on a mammogram, thus tumors are often hidden behind the dense tissue. As a woman ages, her breasts usually become more fatty.
How do I know if I have dense breast tissue?
A radiologist determines the density of a woman's breasts by examining a mammogram.  Request a copy of your mammography report from your referring doctor. Make sure it is  the report that is generated from the radiologist and not a form letter. Read the report carefully. Look for any descriptions of your breast tissue density.
What do I do if I have dense breast tissue?
Talk to your doctor regarding additional imaging techniques that are appropriate for imaging dense breast tissue. Bilateral whole breast ultrasound and MRI have been shown to increase cancer detection rates in dense breast patients as supplemental procedures to annual screening mammography.
What is a Dense Breast Law?
Breast density notification laws have been put into effect in over 34 states. Breast density notification laws vary but are intended to inform women who have undergone mammography about the risks posed by breast density.  The intent was to give women the necessary information to decide if they wanted any further testing if they have dense breast tissue.
My daughter is less than 40 can she have a SOFIA 3D Breast Ultrasound?
Yes, early diagnosis is important particularly if there is family history of cancer.  Unlike a mammogram, the SOFIA 3D Breast Ultrasound does NOT use ionizing radiation which can cause cancer.
Can I have a Sofia scan even if I don't have dense breasts?
Yes.  Ultrasound has no known risk factors and has been shown to be a valuable tool for detecting abnormal anatomical structures in breast tissue.
Can I have a Sofia scan with Breast Implants?
Yes, the Sofia scan uses sounds waves to create very detailed images of the breast.  Ultrasound is safe for women with saline or silicone implants.
Can you have too big or too small breasts for the Sofia Scan to work?
No, all size breasts can be scanned with Sofia.  Our technicians are trained to make sure that the entire breast is scanned, even if it takes more than 1 pass.
Can men get a Sofia scan?
Yes, 2% of Breast Cancer cases are men.  SOFIA Ultra 3D is open to serve everyone who is concerned about their breast health.
Do I need a prescription or Doctor's referral to get this test?
A prescription or referral from a doctor is not required for the SOFIA Ultra 3D service.
Should I continue to do breast self-exam?
Yes, Examine your breasts often and discuss any changes to your breasts with your health care provider.  Annually, have your health professional conduct a thorough breast exam.
Should I continue to have annual mammograms?
Yes. Currently, mammography is the approved method for screening women between the ages of 40-75.  Talk with your doctor to determine if mammography is right for you.
I have had an annual mammogram, what are the benefits of a breast ultrasound?
Breast ultrasound has been shown to nearly double the early detection rate of breast cancer in women with dense breast tissue.  Ultrasound is capable of detecting cancers that cannot be found on mammograms or physical exams which is why some doctors recommend  it be included as part of a women's well health check.
Do you accept Insurance or Medicare for payment?
We do not currently accept Medicare, Medicaid, or third-party insurance which enables us to pass savings directly to our customers. We have priced the scans at $250 to make it affordable.  When you leave Sofia, we can give you the information you need in order to turn in the receipt in to your insurance company and apply the cost of the scans to your insurance deductible.  We accept all major credit and debit cards.
What is the cost of the SOFIA 3D Breast Ultrasound?
Your ultrasound exam includes a scan of both breasts, the dedicated breast radiologist fee, and delivery of the detailed report to you, all for $250.  Payment is due at the time of service.  We accept major credit cards and debit cards.
How private is the experience?
It is our desire to make your time at Sofia as comfortable and relaxing as possible.  Our schedules allow for a more private experience than most imaging centers.  However, we do offer the ability to schedule with a group of friends if you would like.
What should I expect the day of my SOFIA 3D Breast Ultrasound?
On the day of your appointment, please dress comfortably for your spa-like experience.  You will be welcomed, wrapped in a warm robe, and shown to your private changing suite.   An experienced breast ultrasound specialist  will then guide you to lay down on what feels like a  massage table.   While you relax on the SOFIA 3D ultrasound system, it will  comprehensively map both breasts.  After your  fifteen minute SOFIA Experience is complete,one of our dedicated breast radiologist, will read your images and issue a detailed report to you or your primary care doctor.
---
The American Cancer Society (ACS) now places the relative risk of  developing breast cancer due to high tissue density at 4-6 times the  normal risk.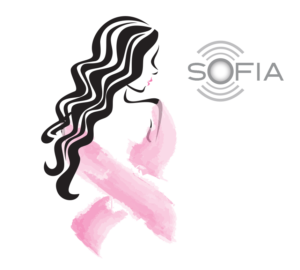 Additional Resources
National Breast Cancer Foundation
Additional Resources